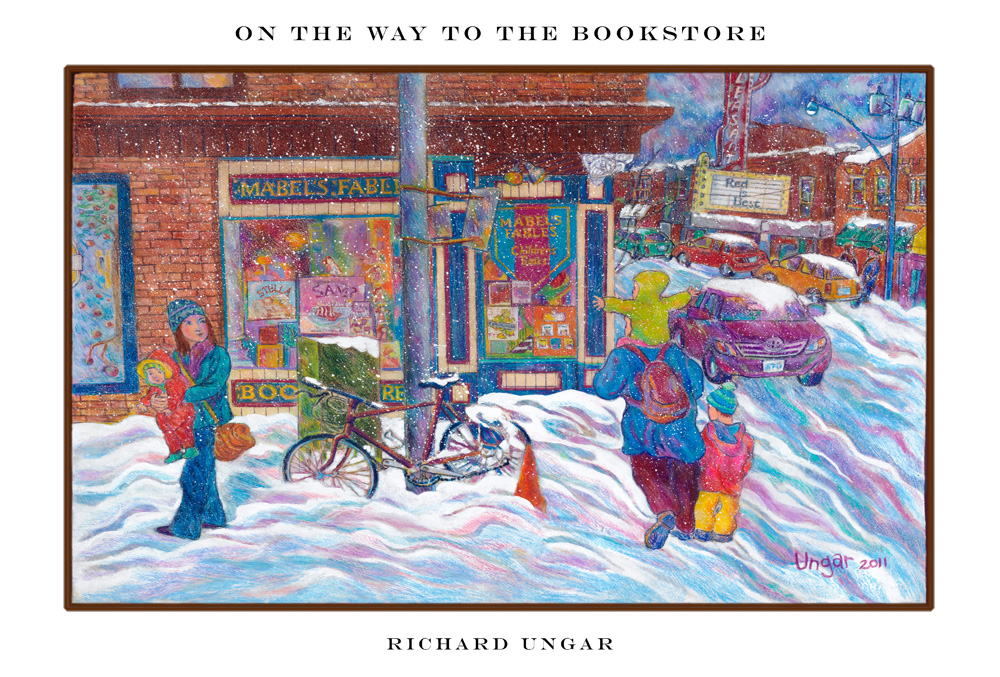 On a frigid day in February, I packed up my sketching pad, pencils and camera, laced up my boots and trekked through the snow to the corner of Mount Pleasant Road and Hillsdale Avenue.
Luckily I found a great (dry) vantage point to sketch – the alcove of an office building directly across the street from my intended subject: Mabel's Fables, the iconic North Toronto bookstore.
I spent the entire afternoon in my little alcove, taking photos and sketching the exterior of Mabel's. As I sketched, I reflected on what had brought me there on a cold winter's day.
A few days before, I had learned that Peter Carver, acclaimed children's book editor, teacher and mentor to myself and many children's writers in Canada, was about to retire from twenty-five years of teaching Writing for Children at George Brown College. Well, not exactly at George Brown. You see, for many years Peter had taught the class on the second floor of Mabel's. And for at least ten of those years I, along with other fans of Peter's, had been taking his class over and over again (it's an inside joke that none of us ever really graduated).
So, when I heard Peter was about to retire from teaching and would no longer be coming to Mabel's, I thought that an appropriate way to say thank you would be for Mabel's to come to him.
And I'm happy to say that, in a way, it did. I completed the painting, "On the Way to the Bookstore", in my home studio over the course of the next three months and presented it to Peter on the eve of his last class: June 16, 2011.